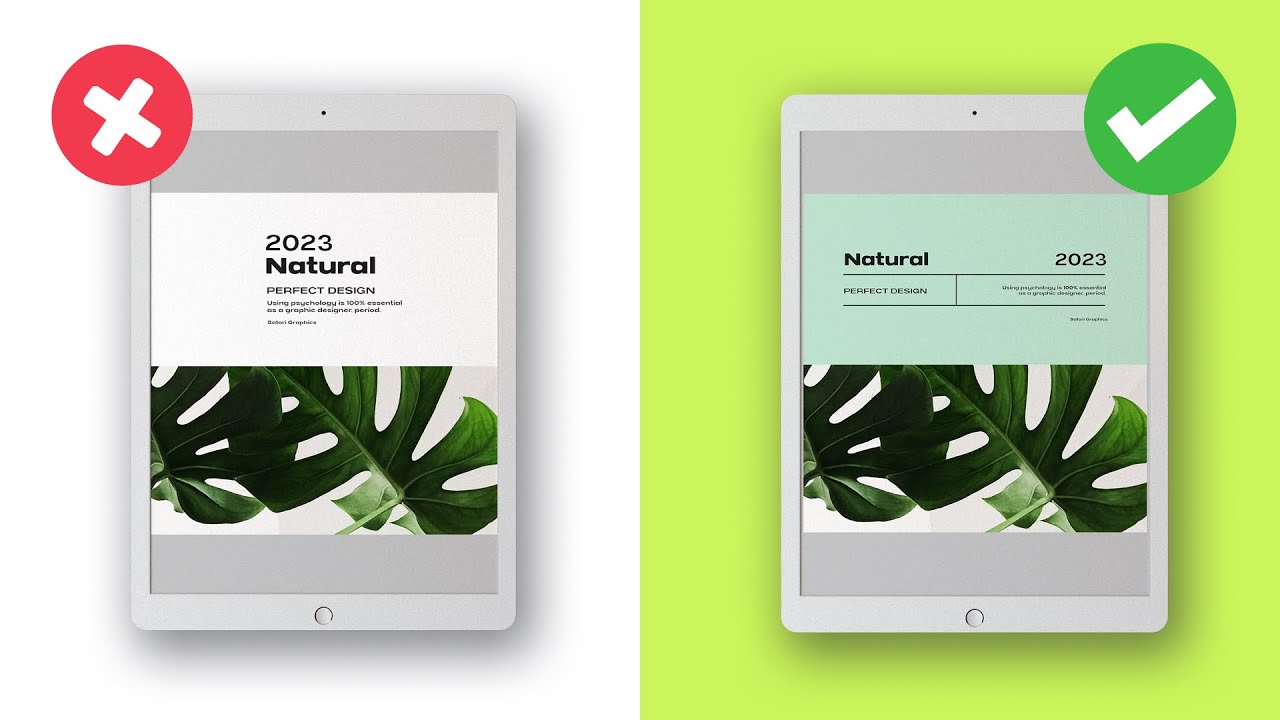 Learn ALL about psychology in graphic design with todays complete course! Grab a discount on the awesome design tool, Readymag: https://readym.ag/clients
Psychology is a huge part of graphic design, and yet many designers don't even consider it when they're designing something. Psychology and graphic design are two fields that are closely intertwined. In fact, it's hard to overstate the importance of psychology in graphic design. Psychology is the scientific study of human behaviour, emotions, and thought processes, while graphic design is the visual communication of information and ideas. Therefore, understanding human psychology is crucial for designing effective and engaging visual communication.
It's important in graphic design because it helps designers understand how people perceive and process information. Humans are visual creatures, and we are naturally drawn to certain colors, shapes, and patterns. By understanding how the human brain processes visual information, designers can create designs that are visually appealing and easy to understand.
Secondly, psychology is important in graphic design because it helps designers create designs that evoke emotions and feelings. Colors, typography, and imagery can all be used to convey different emotions and moods. For example, warm colors like red and orange can evoke feelings of excitement and energy, while cool colors like blue and green can evoke feelings of calmness and relaxation. By understanding the psychology behind color and imagery, designers can create designs that communicate the desired emotions and messages.
In todays graphic design course, we also look at very specific psychological theories in graphic design, such as the Von Restorff Effect, and Gestalt theory. Both The Von Restorff Effect and Gestalt Theory, can be woven into your designs, and implemented in ways that will dictate how the audience perceives your designs.
If you found todays graphic design course enjoyable or useful, let me know in the comments section and drop a like on your way out. Subscribe to stay updated to all of my uploads and until next time, design your future today, peace ✌️
Satori Graphics®
📌📌📌📌📌📌📌📌📌📌📌📌📌📌📌📌📌📌📌📌
🔥 Take Your Logo Design Process To New Heights here: https://logodesignprocess.com/
or on Gumroad here: satorigraphics.gumroad.com/l/logoguide
🖌️ Hand-crafted glassware and more! https://www.etsy.com/shop/BrushstrokeGeek
😎 Over 55 MILLION Design Resources: https://1.envato.market/c/1360642/298927/4662
🖥️ The tool I use to organise my design projects: https://milanote.com/satorigraphics
⤴️ Adobe Illustrator extension that logo designers NEED https://gumroad.com/a/912110707/igBb
The above links are affiliate links, most of which I personally use on a daily basis 👍
📌📌📌📌📌📌📌📌📌📌📌📌📌📌📌📌📌📌📌📌
⏯️ PLAYLISTS
✅ Here's a FULL series playlist of graphic design tips and hacks: https://youtube.com/playlist?list=PL-c9Rq56P4KnrEIc_8zHQCIUe5Mg1SPaU
✅ MOST Popular Satori Videos: https://youtube.com/playlist?list=PL-c9Rq56P4Kly_Ya-wGzasoGoX4QLfQae
✅ 1,000's of FREE Fonts: https://youtube.com/playlist?list=PL-c9Rq56P4Kly_Ya-wGzasoGoX4QLfQae
✅ How To Become A Professional Logo Designer: https://youtube.com/playlist?list=PL-c9Rq56P4KlrLD_RcvxAEzc490k-tVzs
✅ Adobe Illustrator Tips and Tricks: https://youtube.com/playlist?list=PL-c9Rq56P4KksF0oW-S-h9OAo-tkAVYpu
********************************************************************
❤️ SUBSCRIBE To My Main Channel: https://www.youtube.com/c/SatoriGraphics
🧡 SUBSCRIBE To My Backup Channel (in case this channel becomes compromised): https://www.youtube.com/channel/UCnQNh827deb9xToVxgx2LFQ
🟣 Join the FREE Discord: https://discord.gg/YAaEC7HsnD
🐦 Join Me On Twitter!
Tweets by satorigraphic2k
📸 Here's My Instagram!
https://www.instagram.com/satori_graphics/?hl=en
********************************************************************
©️ Copyright
The work is protected by copyright, produced by Satori Graphics®
This is applied to the video recording of itself as well as all artistic aspects including special protection on the final outcome. Legal steps will have to be taken if copyright is breeched. Music is used from the YouTube audio library and or sourced with permission from the author
0:00 Do you disregard psychology?
0:11 Design Psychology Part 1
5:30 Design Psychology Part 2
12:04 Design Psychology Part 3
17:26 Design Psychology Part 4
23:17 Design Psychology Part 5
https://www.youtube.com/channel/UCsiLcImzD9BMq3ncOJsUmdw