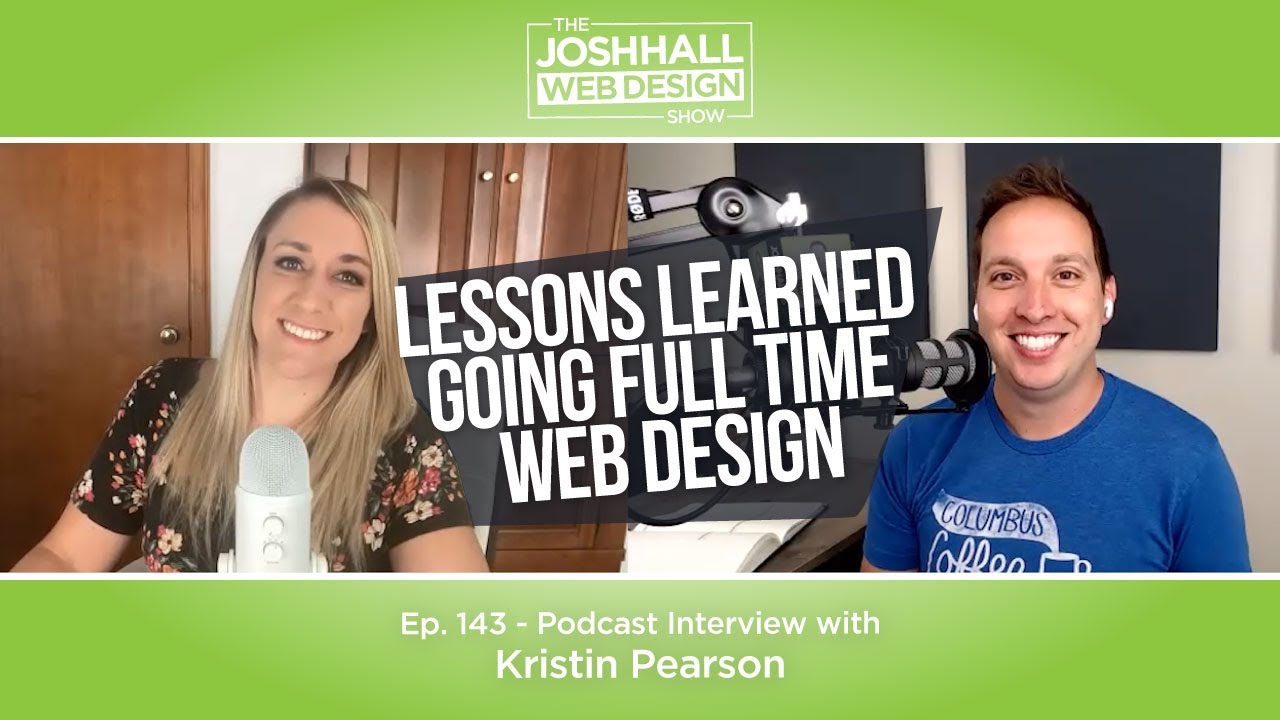 Ep. 143 – Ever wonder what it takes to go from side-hustle to full time in web design?
Well, it may look different for everyone but there are a handful of invaluable lessons and tips when it comes to risk management, financials, getting clients early on, crafting your services, etc and in this episode of the podcast, I'm thrilled to bring on one of my recent students who just recently went full time and is killing it!
Kristin Pearson shares her top lessons learned in recently going full time into web design including one of the most valuable tactics in getting clients which is to do market research to help craft your services and ideal customer.
As you'll hear in this chat, Kristin reached out to an "ideal client," asked some very specific questions and to top it off, recorded the call which became the framework for her website, copy, service offerings, etc! It's truly a genius way to approach getting clients early on and if you're interested in trying that out, you're in luck because Kristin made them available TO YOU to download at:
https://kristinpearson.com/joshhall/
I hope this interview gives you some encouragement and inspiration especially if you're gearing up to take your web design biz full time!
In This Episode
00:00 – Introduction
03:40 – Biz course
04:40 – Greeting Kristin
10:06 – Coaches
10:32 – Speakers
11:55 – Process of both
14:38 – Kristin's start
21:55 – Learning WP
23:28 – Tech deters some
24:53 – Solving problems
25:42 – Communities
28:20 – The starting point
38:26 – Safety plan
42:42 – Time-guilt shift
46:20 – Balancing things
48:48 – Getting clients
53:44 – A recorded call
58:56 – Growing organically
1:00:48 – Current thoughts
1:04:12 – Introverts
1:06:31 – Utilize strengths
1:11:55 – Going live stress
1:20:33 – Recurring income
1:24:11 – Future goals
1:28:40 – Being intentional
1:31:53 – Final thoughts
Connect with Kristin and get all the links and resources mentioned in the episode at:
https://joshhall.co/143
Subscribe to the podcast on:
Apple/iTunes – https://apple.co/36wnnc3
Google Play – http://bit.ly/32c5EmD
Stitcher – http://bit.ly/2QM0sUh
Spotify – https://spoti.fi/36ttMEZ
TuneIn/Alexa – http://bit.ly/2MOg2MP
YouTube – http://bit.ly/2CdGSYM