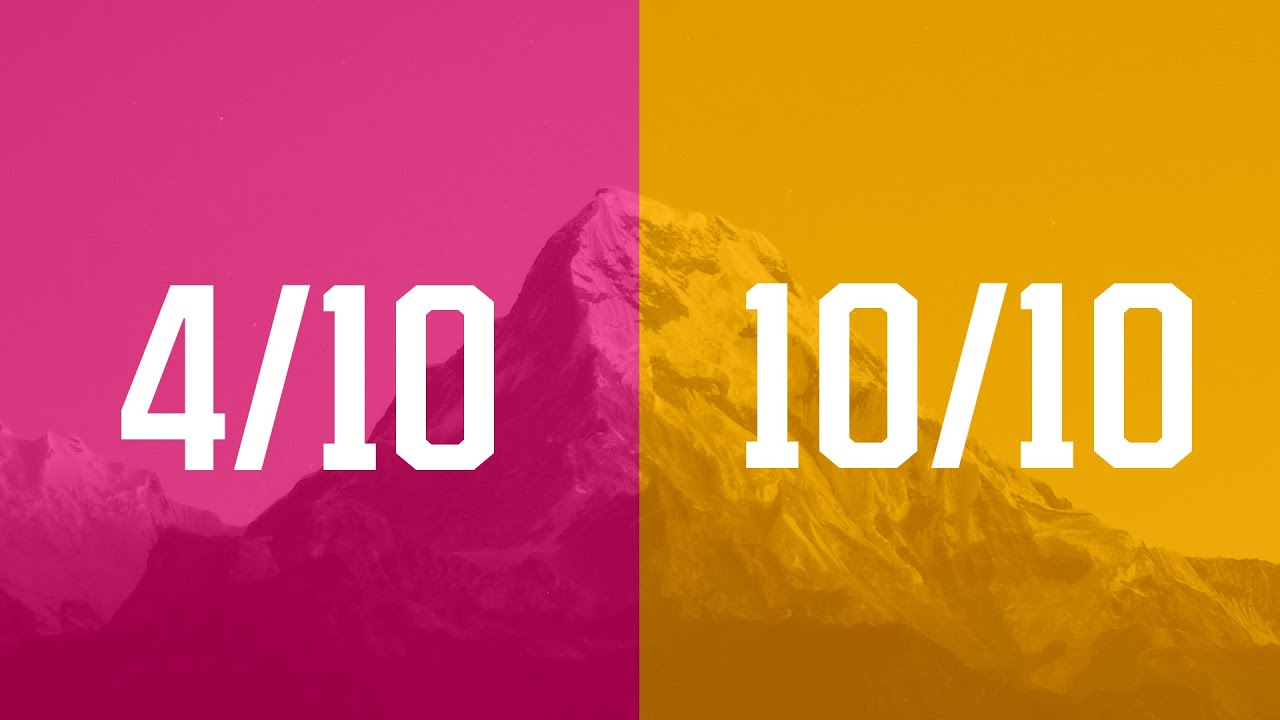 Some more advanced test examples of graphic designs in the amateur or pro graphic design category. Learn some essential tips in todays video and boost your designs to pro status!
Sign up to Framer today totally for FREE: http://framer.com/satori
You all really liked the video that I made on amateur vs pro graphic designs, and how graphic design artwork can be made better with just quick, minor adjustments. And so I made a new video based around slightly more advanced techniques or changes that you can follow along with and test your very own knowledge or creative eye.
Graphic design should be based upon the raw basics and the fundamental that determine if a design will succeed in carrying the message effectively to the audience. With the knowledge of the adjustments that I make in this kind of video, your graphic designs can be elevated to new heights.
If you found todays graphic design tips video useful, let me know in the comments section and drop a like on your way out. Subscribe to stay updated to all of my uploads and until next time, design your future today, peace
0:00 intro
0:28 design 1
1:57 design 2
3:43 design 3
5:57 design 4
🔴 NEW BEFORE AFTER EPISODE! https://youtu.be/raYfZkdSeoM
🔴 Feel free to buy me a coffee ☕️☕️☕️
➤ https://www.buymeacoffee.com/QZUsGgr
🔴 FREE Adobe Illustrator Plugins https://www.youtube.com/playlist?list=PL-c9Rq56P4KkHBonm3s1XirUNnaHWa7mz
🔴 Digital Downloads & Portfolio Site
➤ https://www.satorigraphics.net
📢 📢📢 SUBSCRIBE TO MY CHANNEL
➤➤ https://www.youtube.com/channel/UCoeJKtPJLoIBqWq4o8TDLpA
********************************************************************
What Makes A Portfolio PROFESSIONAL?:

Will Ai Take Over Graphic Design??

Only 1% Of Designers Know These Illustrator Tips

********************************************************************
Join Me On Twitter!
Tweets by satorigraphic2k
Here's My Instagram!
https://www.instagram.com/satori_graphics/?hl=en
▶ Copyright
The work is protected by copyright. This is applied to the video recording of itself as well as all artistic aspects including special protection on the final outcome. Legal steps will have to be taken if copyright is breeched. Music is used from the YouTube audio library and or sourced with permission from the author
FTC: This video is sponsored by Framer
https://www.freepik.com/vectors/poster Poster vector created by freepik – www.freepik.com
https://www.freepik.com/vectors/education Education vector created by freepik – www.freepik.com
https://www.freepik.com/vectors/poster Poster vector created by rawpixel.com – www.freepik.com
https://www.freepik.com/vectors/brochure Brochure vector created by rawpixel.com – www.freepik.com
https://www.freepik.com/vectors/food Food vector created by freepik – www.freepik.com
https://www.freepik.com/vectors/technology Technology vector created by freepik – www.freepik.com
End Screen:
https://www.freepik.com/free-photos-vectors/Background Background vector created by pikisuperstar – www.freepik.com