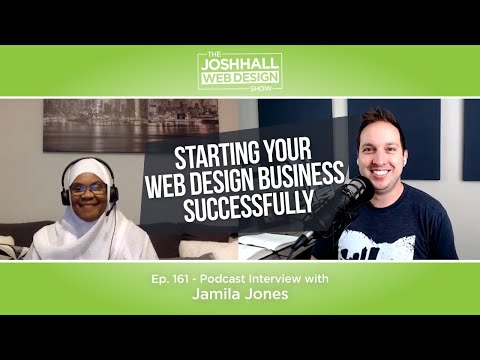 Ep. 161 – If you're interested in starting your own web design business this year or finally going from side-hustle to full time, I'm willing to bet you're probably super excited and completely terrified at the same time…and that's ok!
I remember well that my apprehension came from viewing other professional web designers and agencies who are so far along in the journey and are talking about 6-7 figures and I was just wanting to know how to get started.
Well, in this podcast episode, I'm so excited to bring in one of my amazing students, UK based web designer Jamila Jones, who is early in her journey but is making ALL the right moves.
In this chat, we cover her tactics for starting her business, how she started getting her first few clients, how she learned web design and refined her processes, how her mindset has already started shifting as a business owner and how she's balancing a new business while working from home.
While it's awesome to talk with seasoned entrepreneurs, web designers and business owners, it's equally valuable to get into the mind of someone who is early in the journey and Jamila is such a great example of how to get started in web design THE RIGHT WAY. She shares some invaluable tips and lessons in this chat that I wish I would've heard early on.
If you're just starting or even if you've been at it a while, I know you'll walk away with so many great takeaways from this one!!
In This Episode
00:00 – Introduction
03:54 – Greeting to Jamila
09:05 – Start with personal network
12:45 – Charging right away
16:39 – Discover what works
18:43 – Research in the slow times
20:14 – Superpowers
23:40 – Invest in yourself
27:50 – Increase self-confidence
30:53 – Set goals
32:21 – Are you ready to scale
36:59 – Have a marketing strategy
41:17 – Mindset can make or break
52:03 – Learn sales techniques
55:29 – Take a failure and grow
1:00:28 – Top lesson learned so far
1:04:14 – Rewards
1:08:09 – Thoughts to get started
Connect with Jamila and get all the links and resources mentioned in the episode at:
https://joshhall.co/161
Subscribe to the podcast on:
Apple/iTunes – https://apple.co/36wnnc3
Google Play – http://bit.ly/32c5EmD
Stitcher – http://bit.ly/2QM0sUh
Spotify – https://spoti.fi/36ttMEZ
TuneIn/Alexa – http://bit.ly/2MOg2MP
YouTube – http://bit.ly/2CdGSYM