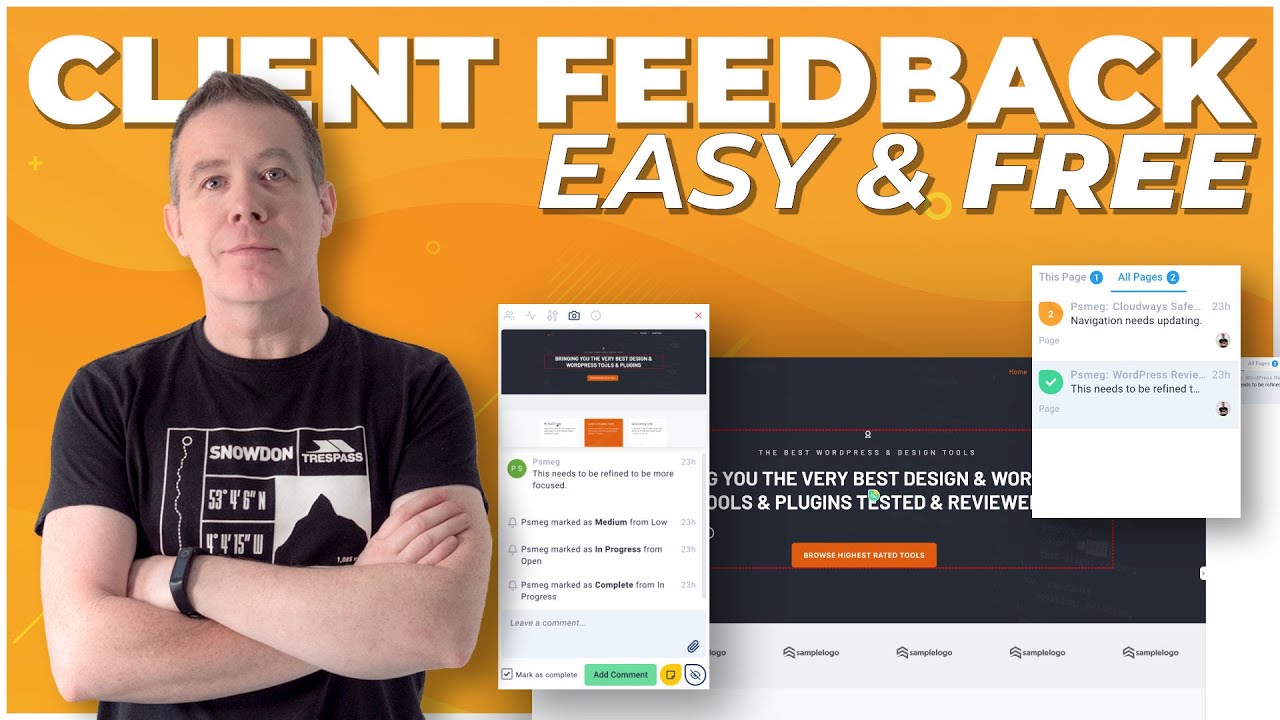 Working with web design clients can be frustrating. Email back and forth, numerous calls and still no solution to their requests. Enter Atarim – a collaboration tool and client feedback platform to increase your productivity by up to 80%!
Join me as I give you a tour around the platform, what it offers and how easy it is to get started.
This could be the perfect solution to your client feedback woes and increase your productivity while saving your sanity.
Best of all, you can get started for free and in many cases, the free plan is all you'll need.
Let's dig into Atarim and see how it can increase your productivity today.
Learn more about Atarim: https://links.wptuts.co.uk/atarim
Take your WordPress website and skills to the next level!
► THE TOOLS I LOVE ◄
If you like what we do and would like to support us, please consider using these affiliate links when purchasing any of the plugins covered in our tutorials. Thank you for your support.
► EXCLUSIVE WPTUTS DISCOUNTS ◄
✅ WPVivid Backup Pro: https://jo.my/vividpro (use WPTUTS20 for 20% off)
✅ Project Huddle: https://jo.my/etafyp (WPTUTS for 20% off – Exclusive)
► MY PREFERRED HOSTING PROVIDERS ◄
✅ CloudWays: https://jo.my/1feeng8
✅ SiteGround: https://jo.my/sgwptuts
► WORDPRESS VISUAL PAGE BUILDERS ◄
✅ ELEMENTOR PRO: https://jo.my/1s0t2s2
✅ Brizy Pro: https://bit.ly/2Ji97r8
✅ DIVI 3 Page Builder: http://bit.ly/2HiiDcE
► WORDPRESS THEMES ◄
✅ GeneratePress Premium: http://bit.ly/2Ydn1SE
✅ OCEANWP: http://bit.ly/2fRHBr0
✅ DIVI Theme: http://bit.ly/2G8JMiA
✅ Astra Pro: http://bit.ly/2zruoKn
► WORDPRESS TOOLS ◄
✅ SMART SLIDER 3: http://bit.ly/2G0G1vB
✅ CSSHERO: http://bit.ly/2qbrRl6
► WORDPRESS PLUGINS ◄
✅ SEOPress Pro: https://jo.my/seopress
► SUBSCRIBE ◄
http://bit.ly/2rX7rhu
► LETS CONNECT: ◄
👉 Twitter: https://twitter.com/WPTutz
👉 Facebook Group: https://wptuts.co.uk/facebook
SUPPORT: Our website offers additional information and perks. Please check it out! http://wptuts.co.uk